Pet Partners' mission is to improve human health and well-being through the human-animal bond.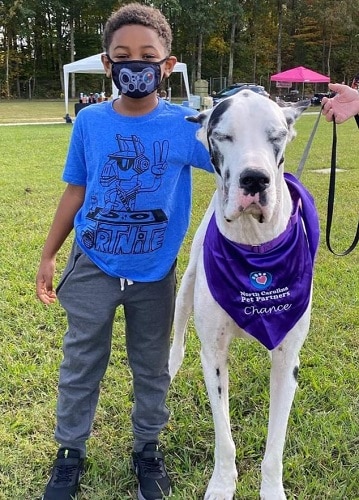 At Pet Partners, we believe that the human-animal bond is a mutually beneficial relationship that improves the physical, social, and emotional lives of those we serve. We are motivated by connection, compassion, and a commitment to sharing this meaningful bond with everyone who can benefit from time spent with an animal.
Pet Partners is the national leader in demonstrating and promoting the health and wellness benefits of animal-assisted therapy, activities, and education. With thousands of registered teams making more than 3 million visits annually, Pet Partners serves as the nation's most diverse and respected nonprofit registering handlers of multiple species as volunteer teams. Pet Partners teams visit in a wide variety of settings and in various communities across the country and beyond with patients in recovery, people with intellectual disabilities, seniors living with Alzheimer's, students, veterans with PTSD, people who have experienced crisis events, and those approaching end of life.
---
Our Species are Diverse, Our Volunteers Should be Also
At Pet Partners, our volunteers serve diverse populations of people with any of the nine species of animals we register. We are committed to creating a volunteer force that is more representative of the populations we serve. We welcome unique perspectives and experiences in terms of national origin, culture, socioeconomic background, ethnicity, race, color, sex, gender identity and expression, education, age, languages spoken, veteran status, religion, disability, sexual orientation, and beliefs, which help us strengthen our impact.