COVID-19 Resources
The COVID-19 pandemic required major adjustments for all of us, and ongoing decisions about how to continue therapy animal visitation in some form. Throughout the pandemic, Pet Partners has been dedicated to supporting our volunteers and the facilities and clients they serve, to ensure that everyone can still benefit from the powerful effects of the human-animal bond. This page is a summary of the resources we've created to help volunteers and facilities make decisions that are right for their circumstances based on the best available science and current practices. We will update this page periodically as the circumstances around COVID-19 evolve.
We know the power of therapy animal visits and we know how much our volunteers enjoy sharing your pets with your community. And we know that there are countless people, from exhausted healthcare workers to students finally returning to the classroom, who will benefit from interaction with therapy animals, especially as we recover from the effects of the pandemic. Pet Partners will continue supporting human health and well-being through the human-animal bond.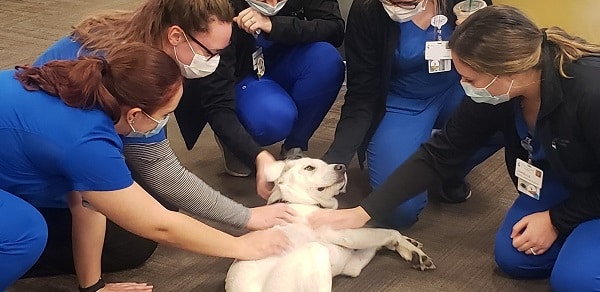 Resources for Volunteers
CDC Guidance for Therapy Animal Handlers
Pet Partners follows CDC guidance on best practices for therapy animal handlers. Read their guidance for the latest information about therapy animals and COVID-19.
Policies & Safety Guidelines for Pet Partners Volunteers
We have created guidelines on safety, procedures, and policies around COVID-19 to support our volunteers in several types of Pet Partners activities.
Resources for Facilities
When you welcome Pet Partners therapy animal teams to your facility, you are welcoming teams that meet the highest standards for client safety. When your facility is ready to welcome therapy animal teams again, we are here to support you. There are many in our communities who could benefit from the love of a therapy animal as we begin to recover from the pandemic. We all have a responsibility to ensure that interactions with therapy animals promote health and safety through rigorous infection prevention. Learn more about our Standards of Practice in Animal-Assisted Interventions.
Resources for All
Many of the tools and resources developed over the course of the pandemic are still applicable as circumstances around COVID-19 change, and can be used by both Pet Partners volunteers and facilities that want to include therapy animal interactions. We're pleased to offer a variety of resources to support animal-assisted interventions in innovative ways.
Animal-Related Engagement
Animal-related engagement is any engagement opportunity that allows participants the benefits of the human-animal bond by encouraging the remembrance of feelings that are commonly associated with interaction with an animal. Learn more and access related content.
Virtual And Alternative Visits
During pandemic restrictions, many Pet Partners teams continued to bring the benefits of therapy animals to facilities and clients through virtual visits and alternative options such as window visits, parades, and creative activities. Alternative visits are still an option for Pet Partners teams, and can expand visiting opportunities for both teams and facilities. Returning to visiting may vary depending on circumstances in your area or at your facility. And some locations or facilities may lack sufficient teams to meet the demand for in-person visits, or have client populations with health or accessibility issues that preclude in-person visits. Learn more about the possibilities.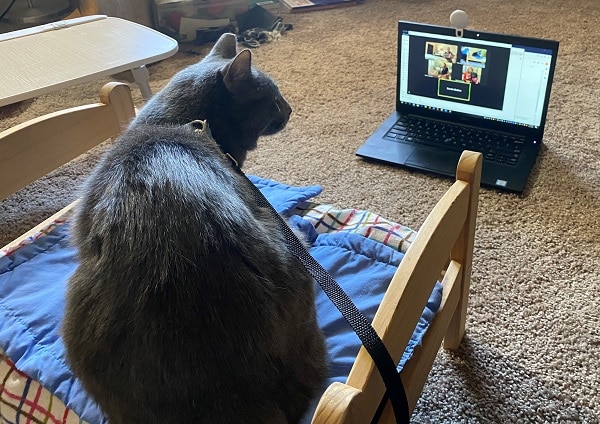 We Are All Ears: A Worldwide Reading Project
We launched a global initiative encouraging students at home to pledge to read aloud to their pets, called We Are All Ears. While many students are beginning to return to classrooms, We Are All Ears can still provide vital support for reading abilities and encourage enjoyment of reading outside of school. Learn more about this initiative and how to participate.
Educational Videos
Visit the Pet Partners YouTube channel for a wealth of educational content including Facebook Live events and recorded webinars. Videos include animal-related engagement opportunities; an ongoing series of conversations with leaders in the field of AAI; and information for volunteers and facilities on important topics such as infection control, volunteering with a variety of species, and building relationships between facilities and teams.