Restrictions on therapy animal visits due to COVID-19 have affected Pet Partners teams across the country. Handler Eva Shanley reflected on how much she and her therapy dog Casey miss their regular visits…and her realization about how they still have an impact in their community.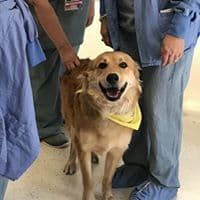 Like everyone else Casey and I are missing our visits. We miss Dr. Tony and Dr. Mary Ellen and Rachelle and Mary and numerous others at St. Joe's. Missy and Oscar and all the staff in the ER at Crouse Hospital and those at the Physician's Office Building. Our lovely residents and staff at Elderwood Nursing Home and PACE adult day care. All of our fun college students. And just seeing all the patients and visitors that smile when they see you coming that just make you smile right back.
But I got thinking this morning as I was walking Casey around my neighborhood: we still visit people that need us.
Jenny who is across the street from us raps on her window and blows us kisses in the morning when we come out for our walk. If she's out we stop and chat on our way back as we have for many years. She has some back issues and doesn't feel well lately, so I think it's a nice break for her.
Denny who lives down the road loves Casey and always laughs and smiles when he sees him. He had a dog years back but for whatever reason does not want to get another. I need to start carrying a brush with me because he says he would brush him if he had one. I may drop him off for the day!
Our good friend Annie used to babysit our dogs when I was still working, and we always stop and see her when she's out tending her garden. She lost her own dog several years back (we walked our dogs together) and just loves to see the dogs and trade some good old fashioned neighborhood gossip!
Farther down around the corner is Jake, one of the best guys we know. Always helpful and an all-around good guy, he had a dog some years back that he dearly loved. He has some heart issues now, but I think when his wife (also a wonderful person) retires they will get a dog. So for now, he gets a kick out of visiting with Casey.
Wally lives next door to Jake and loves all animals. He and his wife had a dog and cat for years, but both have passed. Sadly his wife does not want any more pets, so he loves everyone else's. He enjoys seeing Casey and gives him treats which, of course, has endeared him to Casey the biscuit lover.
We have a new friend we met awhile back who lives a few streets over. Perry also had dogs at one time, but has some health issues nowadays and won't have another. He absolutely loves to see Casey coming along, and we enjoy our visits with him. He's alone and I think we really cheer him up.
So as we take our little walks around, I'm heartened to think we've continued our therapy visits, if only in disguise!