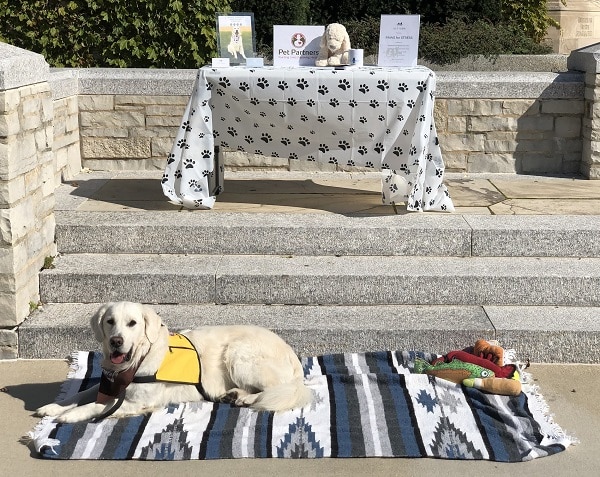 My therapy dog, Sully, and I live in Evanston, IL, and lately it's been difficult to find opportunities to volunteer due to COVID-19. I decided to get creative and invent an opportunity of my own, in partnership with the Kellogg Student Association.
The first weekend in October, we facilitated an event called "Paws for Stress" in which students were able to come visit Sully for 20-minute sessions in hopes to increase happiness levels and decrease stress. The event was a big hit and had a handful of attendees who were incredibly grateful for Sully's service.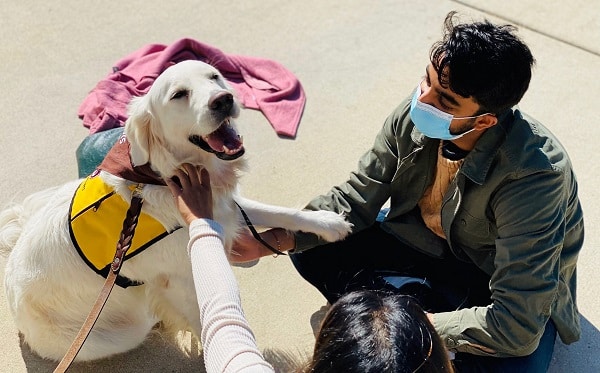 One of the attendees is from outside the U.S., and has been afraid of dogs his entire life, but he said that after his experience with Sully, he's now more comfortable with Sully and willing to interact with other dogs.
Many people said that the event was the highlight of their week and they're anxious for me to put on another one!
In effort to positively impact the lives of others, Sully and I look forward to continued service, volunteer opportunities, and fellowship with this wonderful organization.
submitted by Bridgette Gottwald
photos courtesy of Bridgette W. Gottwald, LPC, NCC and @eltigbamindset
Read about how Bridgette and Sully came to be a therapy animal team.