When we said that We Are All Ears is a worldwide reading project, we meant it! Here's how a Pet Partners team in Greece used the project to support students with a virtual visit to a school.
This was our first virtual visit to the students of the 5th grade of the Primary School of the small village of Makris Gialos, which is located about 250 km away from us on the southeast coast of the island of Crete.
The teacher, Mrs. Maria, had met Basquiat last summer and promised to invite us to the school for a Read With Me visit, but unfortunately due to the pandemic we didn't have the opportunity to travel.
But fortunately, technology provided the solution!
The virtual visit lasted two hours.
During the first hour I had the opportunity to talk to the students about the activities and the programs of Pet Partners and about the Greek branch Pet Partners of Hellas and also introduced Basquiat to them!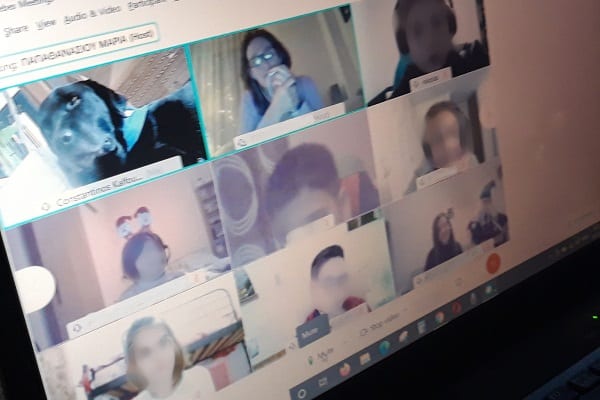 For the next hour the children had prepared a reading of the book The Little Prince. It was great! Εach child in turn read a paragraph from the story, while the other children watched Basquiat's reactions—Basquiat proved to be a devoted listener!
For the final minutes of our meeting, Basquiat, wanting to thank the children, demonstrated his knowledge in arithmetic. The children asked him mathematical additions, e.g. 3 + 5 = and Basquiat answered back barking the right result!
Our next appointment with this amazing class will be right after Christmas; and as soon as COVID-19 leaves us once for all, we will travel to meet the students!
story submitted by handler Constantinos Kalfountzos
Thank you to our Pet Partners teams all over the world who continue to support their communities with virtual visits! And thank you to Elanco for their support of We Are All Ears.