Tracy Howell and her cat Roger have been a volunteer team with Pet Partners since 2016. During that time they have volunteered for Hospice of the Valley, Phoenix Children's Hospital, Arizona State University, and the Scottsdale Public Library. In addition, Tracy is a leader in Pet Partners of Phoenix, the Community Group for the Phoenix area. "Roger's favorite visits are with his hospice patients and the kids at the hospital. He loves seeing their excitement at seeing at him; and for me, seeing how the real cat lovers react is amazing," said Tracy.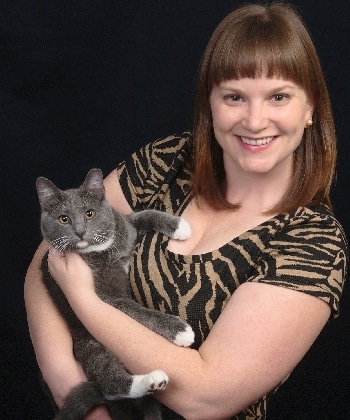 On Wednesday March 18, Tracy and Roger were at Phoenix Children's for their regular shift. "On the way there I explained to him about COVID, and that I wasn't sure when we would be back, so he should make sure to give it his all in case it was his last time there," Tracy said. That night Roger met 13 patients and was calm and comforting with all. "I felt like he could have gone all night, but we stopped at two hours per Pet Partners rules," Tracy said. While they were there the President addressed the nation on COVID-19, and in-person visits stopped at the hospital the next day.
Since March, Roger and Tracy have transitioned to visits on Zoom. "Visiting on Zoom is tougher, but we are still able to make a connection, and people know that we still care," Tracy said. A visit with a Phoenix Children's patient on Zoom recently made an impression on her. "Roger did his tricks and the patient was smiling and happy, which the nurse told me afterwards is a big deal for this patient. It's harder to read people on Zoom but the groups we volunteer with make sure to give us feedback that makes it worthwhile."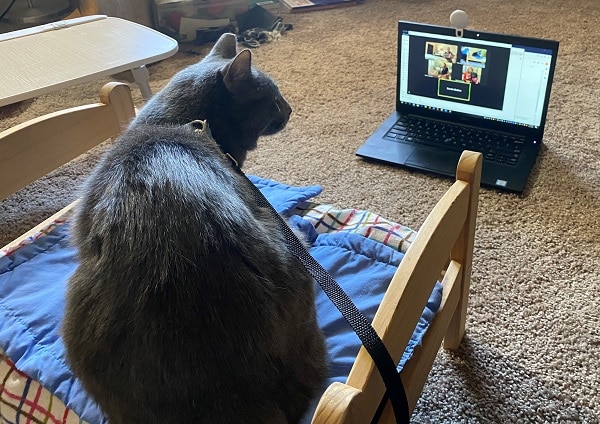 In November, Roger was chosen by the Arizona Pet Project to receive their 2021 Service to the Community Hero award. "I'm thrilled that Roger was chosen to be recognized for his hard work providing comfort during tough times. I am also excited for the exposure for therapy cats in general," Tracy said. Trying to get more therapy cat teams registered has been Tracy's passion for the last few years. "It's hard because I think it really takes a special cat for this and then their person has to be interested in giving back too," explained Tracy.
In late November, Tracy woke up when she thought she heard Roger meowing in her living room. It turned out to be a cat below her patio crying for help. When Tracy brought the cat inside, he crawled into her lap and was calm. Efforts to find his family have been fruitless. "I think he would make a great therapy cat, which is funny—I have been saying for months that I would like to find and train another therapy cat and here one just showed up," she said.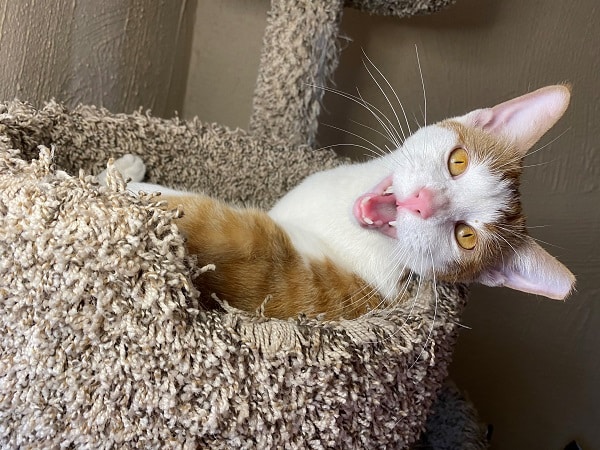 Tracy plans to document her journey training her new cat, who has been given the name Sal, on social media (Instagram and YouTube) to encourage others. "I think if people can see that [working with a therapy cat] isn't that difficult and is so worthwhile, more people might take the chance and do it," Tracy said.
You can find her new cat Sal on Instagram at @therapycattraining.
Roger is on Instagram as @rogersterlingthecat and on TikTok as @therapycatroger.