Pet Partners volunteers commemorate their service and the impact of the human-animal bond in so many ways—including creative endeavors like this sweet rhyme in honor of a sweetie pie dog.
Being a Pet Partners Team
by handler Charlena H. Grimes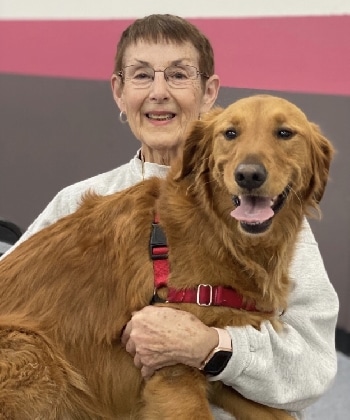 When Sweetie and I became a team
We studied and practiced so it could be seen
That we were ready to pass the test
So we could go public and do our best.
The folks at assisted living and also day care
Love our visits and made us aware
Of the need for animals to brighten their day
That made us so happy it started that way.
Then comes the lockdown and restrictions galore
That created stress for so many more
But teams keep on working being virtually connected
And even visits through windows were sometimes detected.
One thing is certain throughout this past year
Is the therapy my Sweetie provided me here—
I sometimes wonder if I could have survived myself
Had I not had this partner share her great wealth
Of love and affection throughout each day
So I am ever so grateful it could happen this way.
Thank you my Sweetie Pie for being beside me.