Roslyn & Abbey: 2021 National Walk Champions
Roslyn Lindeman and Abbey have been a Pet Partners team since 2018, and were chosen as the Walk Champions for the 2021 World's Largest Pet Walk! Read their story below to learn more about their dedication to Pet Partners and their work as a therapy animal team.
I knew Abbey was meant for therapy animal work from our first meeting when she found the crook of my arm and just nuzzled in. There she sat quietly soothing my soul and melting my heart.
From early on, the stage was set for what I knew was her calling. At six months of age, we started preparing for therapy animal work and progressed successfully through twenty weeks of structured basic, advanced, and urban training.
Abbey's first official test was the AKC Canine Good Citizenship test that she passed with flying colors. After that, we continued to practice everything we learned until she was two years old and was able to start her volunteering as part of the YMCA therapy animal program at Naval Medical Center San Diego. It was there that she blossomed and began to understand the role she was being asked to assume.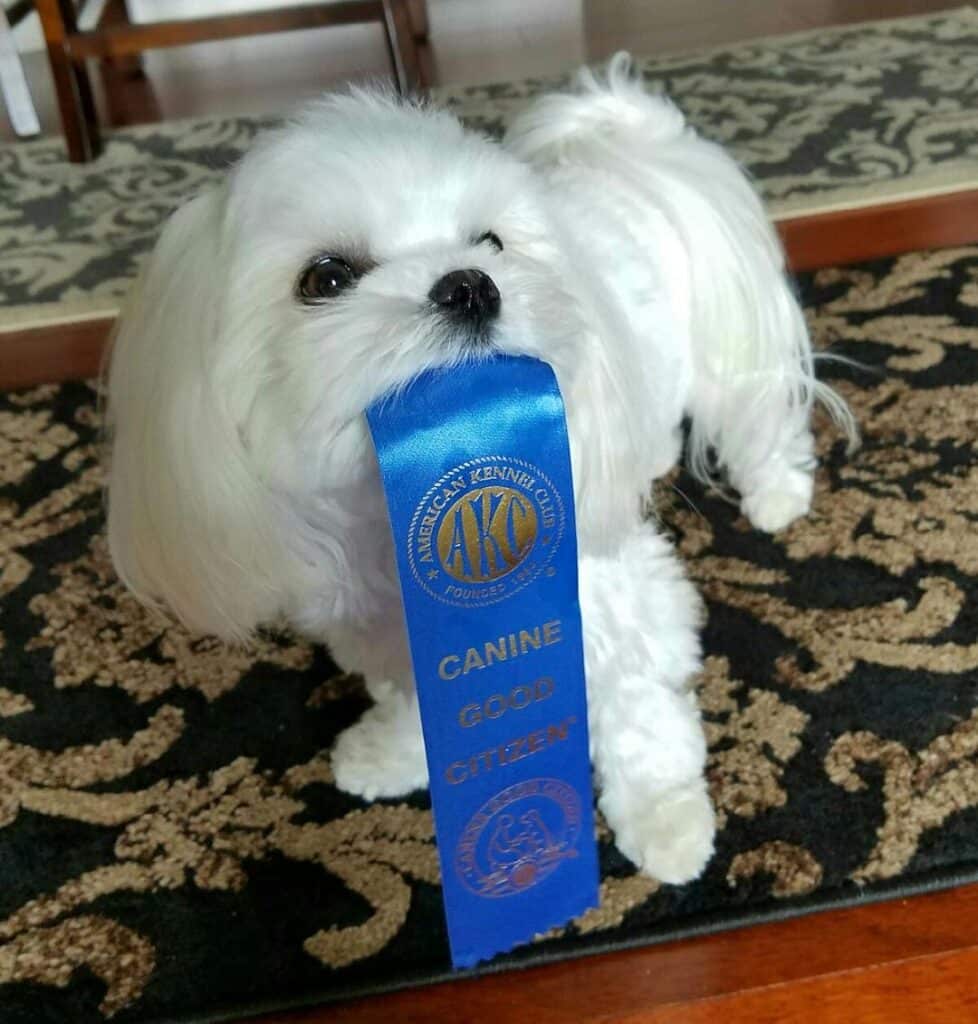 After moving from California to Florida, I pursued getting us nationally registered as a therapy animal team. I found Pet Partners and the rest is history. We evaluated in Jacksonville in 2018 and began our work in the local area shortly after.
Since becoming a registered therapy animal team, we have worked with fragile children and their families at the Emerald Coast Advocacy Center in Niceville, compromised adults at the Emerald Coast Cancer Center in Fort Walton Beach, geriatric patients at the Air Force Enlisted Retirement Village, and Hawthorne House Memory Care Unit in Shalimar.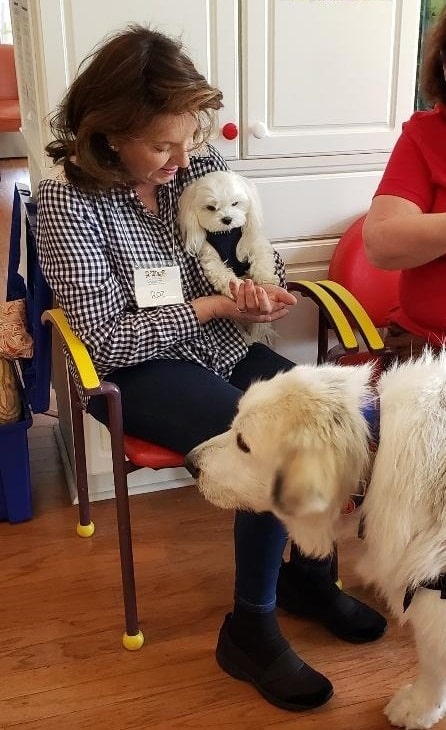 We've had many amazing experiences as a therapy animal team, such as these:
In the ICU, where patients were critically ill, Abbey would find a spot to lie in the bed right next to their hand, where they were able to touch her or feel her presence. I watched as many would muster up enough energy to lift their hand and pet her or just rest it on her head. In the event they were unable to do either, I would help them make that important physical human-animal connection.
On one occasion, an older patient on the adult surgical ward was getting prepped for surgery. Because of the effects of Alzheimer's, he was unable to focus on information being given by the nurses or directions by his family. Abbey and I just happened to be making our rounds; when we walked into his room, he was yelling and thrashing about. He saw us and immediately calmed down. Abbey proceeded to assume her position on his lap while he stroked her. To the amazement of everyone in the room, he regained some clarity and was able to focus on what was happening. It was at that point that the staff and tearful family members told me that he was the most lucid than he had been in days.
Abbey absolutely loves children of all ages. It is incredible to watch her sense what they need and interact with them. One teenager was on a psychiatric hold because he was having destructive outbursts, causing injury to himself and others around him. When he wasn't acting out, he was withdrawn and wouldn't relate to the staff taking care of him. Abbey and I were in the hospital that day and we were called to see how he would respond to her. Initially, he did not make eye contact with us, and when asked if he would like to meet her, he turned away. Abbey and I were persistent. I positioned a chair facing his bedside and put Abbey on my lap. Abbey likes to look at people when we visit, so as we sat there, she did her thing and did not take her eyes off him for a second. Little by little, he started making eye contact and interacting with her. At that point, Abbey and I moved onto the bed next to him. He didn't withdraw, but he sat very stiff and angled away from us. I put Abbey on the bed between us and she as sweetly and gently as possible proceeded to lay her head on his thigh—again, never taking her eyes off him. Before long, he was touching and petting her. Little by little she made her way into his lap and there she sat quietly doing what she does best.
When Abbey is not officially at "work" she effortlessly brings smiles to the faces of everyone she meets. Incredibly, she knows the difference between working and socializing. When she is not working, she many times has difficulty holding her "licker" unless directed by me to do so. She is an avid people lover and has never met anyone she does not like—and conversely, very few people who don't wholeheartedly return the sentiment.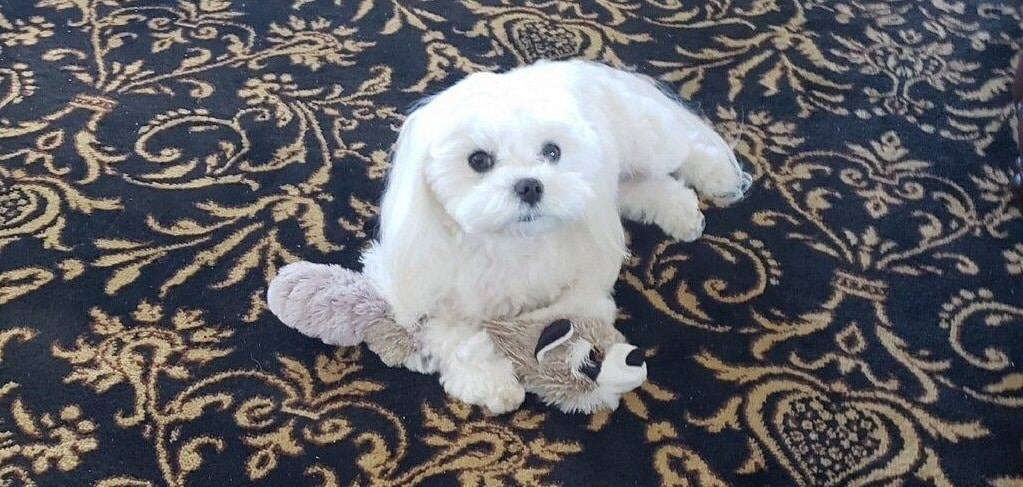 Her "down time" includes going for walks, playing or taking a nap with her favorite toy Sparky, having long talks with her best friend Beanie, sitting by the window watching over her domain, and something she has perfected over time: training me. So far, I have been taught to provide face cleaning and "pawdicures" every morning, to have treats ready and waiting upon our return from walks, to find new and exciting puzzles to challenge her at playtime, and to share half of my queen size bed at night! Abbey's User Manual is quite thick, and I don't think she is done with it yet.
Time after time, I watch this amazing dog do her job. She naturally senses what people need and effortlessly provides it. From infants to children to adults to individuals in their advanced years with memory deficits; from critically ill patients to those ready to go home; from hospital staff to first responders, Abbey effortlessly provides what they need. Watching her work frequently gives me the chills and always makes my heart burst with incredible pride.
Abbey and I are honored and excited to be recognized as Pet Partners National Walk Champions for the 4th Annual World's Largest Pet Walk! Spreading the word about the important work therapy animals do for and within our communities is incredible and raising money for this work is critical.
—submitted by Roslyn Lindeman