Dee Salla and Geralyn Hawk & Pearl: Making the Case for Therapy Cats
Dee Salla has been a Pet Partners volunteer for more than a decade, serving as a handler with three dogs, as well as a volunteer instructor educating prospective handlers, and a team evaluator screening teams for Pet Partners registration. Her work as an evaluator is particularly important in bringing therapy animal teams to her community.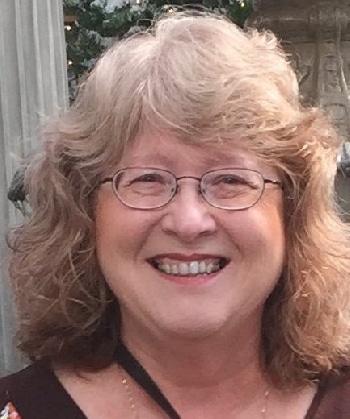 Geralyn Hawk has been a Pet Partners volunteer since 2015, when she first registered with her Burmese cat, Pearl. Geralyn and Pearl have been groundbreakers at University Hospitals in Cleveland, OH, where Pearl became the very first therapy cat in the hospital system's therapy animal program. (Read more about how they achieved this in the Fall 2018 issue of Interactions, on page 11.)
Geralyn and Pearl had a registration renewal coming up, which meant undergoing a team evaluation. They signed up for an evaluation event that Dee was leading. Dee had never evaluated a cat team before, and had some concerns about whether she had the right knowledge to evaluate this team. "I've never had a cat due to my allergies and the fact my mom didn't care for them," Dee says. She also had a negative experience with a friend's cat when she was a child, and this led to her never really getting to know cats well. So she was a little uncertain about evaluating Geralyn and Pearl effectively.
Dee reached out to Pet Partners staff for support. Moira Smith, Evaluator & Instructor Support Specialist, was happy to assist Dee, and provided her with resources about cat behavior and what to know and look for in evaluating a therapy cat team. Moira is also a former therapy cat handler herself, and was able to offer her own knowledge and experience to further support Dee in preparing to evaluate Geralyn and Pearl.
After the evaluation was over, Dee contacted Pet Partners to talk about her experience evaluating Geralyn and Pearl:
I wanted to thank you for sending me the cat evaluation links and building my confidence, by just knowing you were in my corner. When I met Geralyn and Pearl yesterday I was surprised I wasn't nervous at all. Geralyn was very personable and her cat was AMAZING! I had so much fun evaluating this perfect team and watching how a cat can bring so much comfort and joy was a total eye opener for me. After seeing this team I think more hospitals should allow kitties in to visit.
She also sent an email to Geralyn about her experience:
It was pure joy for me meeting you both and evaluating such a wonderful, perfect therapy team. You both have opened my eyes to the idea of kitties in the hospital. On my drive home yesterday I called my hubby from the car to share the experience I had that day. This was one of the best evaluations I have been a part of for many years. Thank YOU and Pearl! 🙂
And the preparation and assistance Dee received benefitted Geralyn and Pearl at the evaluation as well. Geralyn contacted Dee and her fellow evaluator to express her thanks:
Thank you for providing the most supportive, enjoyable, stress free and friendliest evaluation Pearl and I have attended. We thoroughly enjoyed it! 
Geralyn and Pearl passed their evaluation and will renew their registration for another two years as a Pet Partners team, continuing to bring the benefits of a therapy cat to the people they visit. And Dee has gained new knowledge and skills as a team evaluator, along with learning more about cats as therapy animals, which will support adding more Pet Partners teams in her community. It's a great outcome that benefits everyone involved.