Tiger & Duke: Making a Difference to the End
This visit will forever be in my heart.
A client, who grew to be a dear friend, was at the end of her life. She truly loved Duke; we finally got to go into the facility again just recently and she got to hold him.
A few days later I was contacted by the Rec director at the facility; she told me our client did not have much time left and wanted to know if we could come right away. I gathered up Duke and went straight there. As we were on the way I told Duke we were going to see her for the last time and he needed to say goodbye.
When we got there, Duke did something he had never done before on our visits there: he went past every room and headed right to our client's room. He went to her bed and put his paws up, sniffed her, and gave her a kiss. Then he laid by her bed with his head at the feet of our client's sister-in-law.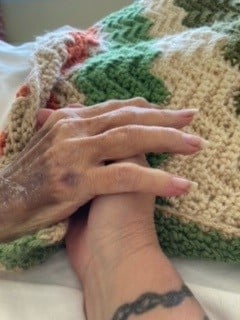 We spent some time there and our client—our friend—held my hand. My heart told me to take Duke's name tag off, and I tied it to her prayer blanket with her St. Jude medal. Her sister-in-law said this was so special of us, and I told her our friend would have wanted it. She gave me a hug, and then we just sat together and remembered this special woman.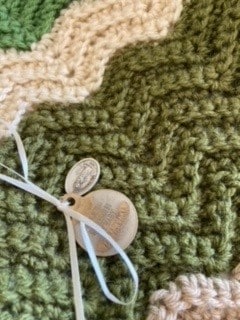 Sometimes I struggle with knowing whether Duke and I are making a difference with our visits. This time, I knew for sure we made a difference for our friend and her family member.
—submitted by handler Elizabeth "Tiger" Maynard-White